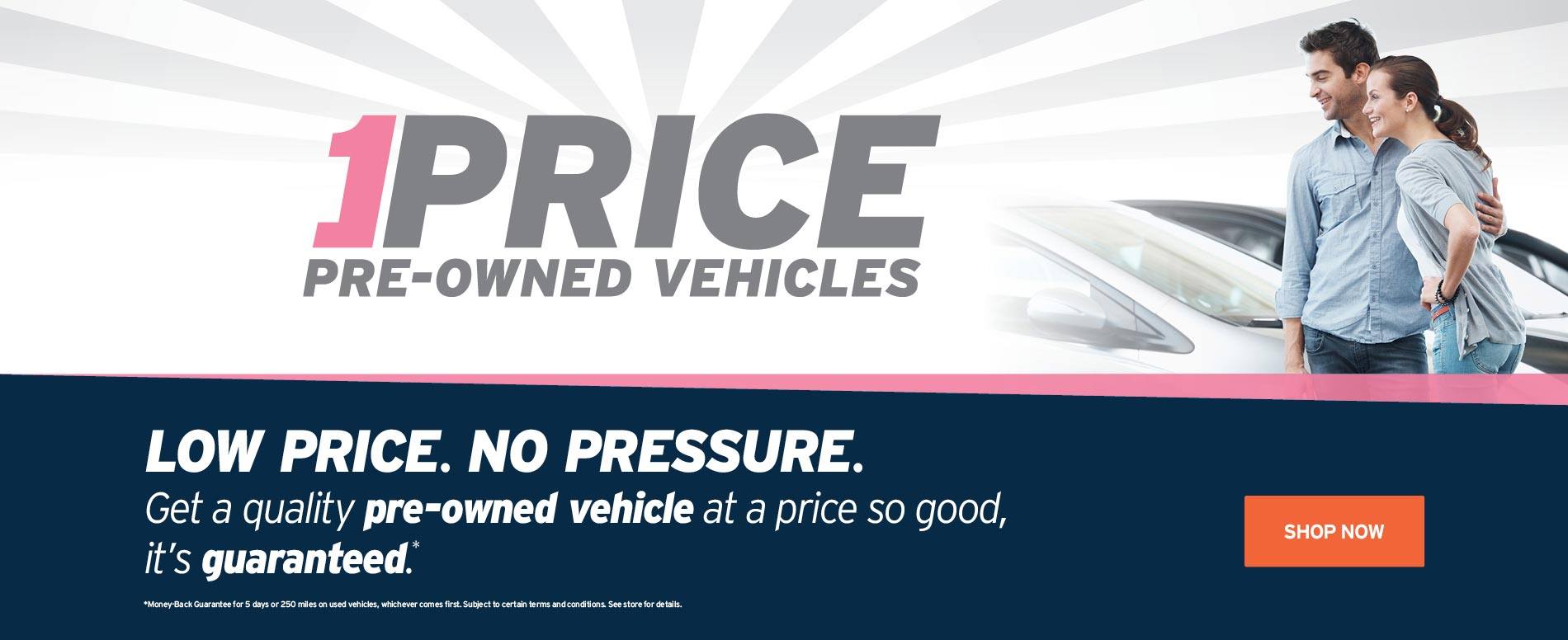 What You See is What You Get with Pre-Owned Vehicle 1Price
Have you heard about Pre-Owned Vehicle 1Price? It's one low price you can rely on. We believe the price you're quoted is the definitive price you pay for your pre-owned car. Period. No haggling, no hassle. Say goodbye to the stress and pressure that often accompany price negotiations.
Our Pre-Owned Vehicle 1Price isn't just low, it's smarter. We've researched and compared thousands of vehicle prices to give you a great value on every vehicle, up front. The end result? You not only save time, you save money.
You can rest assured that with our Pre-Owned Vehicle 1Price, the pressure and stress of buying a pre-owned vehicle is a now thing of the past. Look at it as a whole new way of car buying. Not only is our no-haggle price low, it's guaranteed.
Added Benefits of Pre-Owned Vehicle 1Price
If you're looking for pre-owned car and you want to take the most straightforward, simple and transparent path, consider the following additional benefits of
Pre-Owned Vehicle 1Price
: our Certified Pre-Owned cars are rigorously inspected and
worry-free
.
When you visit our showroom, we go out of our way to welcome you to a relaxing, comfortable and worry-free environment. With Pre-Owned Vehicle 1Price, you never have to participate in another pre-owned car price negotiation again.
Our set and fixed prices eliminate the mystery from car buying. All of our pre-owned cars reflect market value and many come with additional cost savings and discounts off the sticker price. We hope you are just as enthusiastic about our Pre-Owned Vehicle 1Price formula as we are! We truly aim to transform the entire pre-owned vehicle buying process and get you in and out of the dealership and behind the wheel of the perfect pre-owned vehicle! Get started by browsing our pre-owned vehicle inventory now.